Received a Notice of Deficiency- NY IRS Attorney Explains What to Do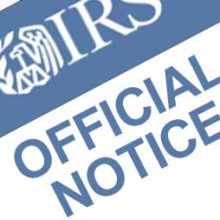 Under Section 6212 of the US Code, you will receive a Notice of Deficiency from the IRS when changes are going to made to your income tax return. Typically, the statutory Notice of Deficiency is sent after an audit. It can also be sent to create a tax liability in certain circumstances.
In short, the IRS is saying that you owe them money as a result of a certain event and that you have a period of time to contest that liability. If you do not contest the liability within the statutory time period, the liability will become final and binding.
The letter ( form 531-T) will explain that you have 90 days from the date of the letter to file a petition in United States Tax Court to challenge the assessment of the Internal Revenue Service.
A Notice of Deficiency ("90 day letter") is sent by certified mail, return receipt requested by the IRS.
What You Receive Before the 90 Day Letter
Typically, a Notice of Deficiency is received after the conclusion of an audit. However, you may want to address the issues that you are facing before you receive a Notice of Deficiency.
During the course of your audit, you will likely receive letter - 4549 Income Tax Examination Changes.
This form will advise you what you owe in additional taxes, including penalties and interest, as a result of the auditor not allowing certain expenses that you claimed on your income tax returns.
For example, perhaps you claimed your car as a business expense and it was not used in the ordinary course of business. Perhaps, the IRS wants to see your the ledgers to prove mileage, etc.
This form is as a 30-day notice for you to respond to the Internal Revenue Service auditor to show your proofs (receipts, etc.) so that the assessment is not issued against you. You have the burden of proof to make your case as to why the expenses should be allowed.
Often, it more cost effective to deal with the IRS on an administrative level on appeal rather than going to Tax Court.​
However, It is recommended to seek counsel from a tax attorney when you are under audit. By doing so, a tax attorney can apply the tax law to your proof to help you make the best decision regarding what direction to take your audit.
How a Notice of Deficiency Affects Your Rights
If you do not file a Complaint in United States Tax Court by the date stamped in the letter, the changes in the Notice of Deficiency becomes final and legally binding. If you do not pay the amount due, your matter will be referred to the collection department of the Internal Revenue Service.
​
Why You May Need a Tax Attorney
If you decide to file a petition in Tax Court, you will have to present your case to a judge. You will need to formulate your theory of the case and present evidence, witnesses, etc. Further, your adversary will be IRS legal counsel.
While certain tax matters do not require the assistance of a tax attorney, you are well advised to seek the counsel of a tax attorney to determine your options upon receipt of Notice of Deficiency.
Depending upon the amount of the proposed changes, you may need the weigh the cost and time of litigating in Tax Court versus your other resolution options. A tax attorney can help you formulate a strategy upon receipt of a Notice of Deficiency.
As a last bit of practical advice, since you only have 90 days to file a petition in Tax Court, do not wait to the 89th day to seek counsel if you received a Notice of Deficiency. Remember, the clock is ticking.